Polski Uniwersytet
Na Obczyźnie

Zakład Współczesnej
Kultury Brytyjskiej

238-246 King Street
London W6 0RF

tel. +44 (0)20 8846 9305
e-mail: rektorat@puno.edu.pl







Seminar Convenors:

Prof. Michael Fleming and Dr Wojciech Rappak

- [ VISIT OUR FIRST EDITION OF THIS SEMINAR:

H E R E. . .

] -



The seminar takes place at the Polish University Abroad, POSK building, 3rd Floor, 238-246 King Street, London W6 0RF on Wednesdays at 6.15pm.

The seminar will be especially useful for students reading MA or PhD degrees in history or cognate disciplines. All are welcome, but those wishing to participate should contact PUNO or the convenor prior to each seminar as places are strictly limited. Email: PUNO's Office or Prof. Michael Fleming.




2016 / 2017 EDITION










31 January 2017



Dr Rafał Pankowski (Collegium Civitas, Warsaw)

The Populist Radical Right in Poland






14 December 2016



Dr Katarzyna Zechenter (UCL-SSEES)

The Revival of Jewish Narratives in Polish Fiction after 1980






16 November 2016



Dr Wojciech Rappak (PUNO and UCL)

The Polish Government in Exile and news of the Holocaust






26 October 2016



Dr Agnieszka Morriss (City University, London)

Propaganda through the airwaves: the BBC Polish Service during the Second World War

2015 / 2016 EDITION





11 May 2016



Dr Joanna Beata Michlic (University of Bristol)

Rescuers of Jews in Poland: History and Memory.






4 May 2016



Jarek Garliński (prize-winning translator)

The Sikorski-Maisky Pact of July 1941.






6 April 2016



Dr Andrea Mason (LSE)

The Flight of Stanisław Mikołajczyk and Maria Buyno: The Conclusion of Britain's Commitment to Poland






9 March 2016



Professor Michael Fleming (PUNO)

Resistance and Revolt at Sobibór






17 February 2016



Dr Ursula Phillips (UCL SSEES)

Zofia Nałkowska as a Critic of Polish Reality.






16 December 2015



Agata Błaszczyk, Polish University Abroad [Agata Blaszczyk jest też członkiem Young Academic Networks Foundation for European Progressive Studies - Bruksela, i pracuje nad opracowaniem zbiorowym Belonging in Europe: legal and political perspectives.]

The Committee for the Education of Poles in Great Britain (1947-1954). The experience of British migrant settlement policy.






25 November 2015



Dr Joanna Rzepa (Early Career Fellow at the Institute of Advanced Study, University of Warwick)

Transmission and Translation of Holocaust Literature: The Curious Case of Jerzy Andrzejewski's 'Apel'






28 October 2015



Professor Marek Wierzbicki, Institute of National Remembrance (IPN), Radom.

Forgotten heroes of Solidarity - the youth political opposition in communist Poland during the 1980s

2014 / 2015 EDITION






22 October 2014



Roch Dunin-Wąsowicz (PhD candidate, London School of Economics)

The Rainbow is burning: Analysing public art as the locus of the Polish symbolic conflict over LGBT rights, the nation, and Europe






5 November 2014



Dr Alexander Watson, (Lecturer in History, Goldsmiths College, University of London)

Forging a Nation, Breaking a Community: Cracow at War, 1914-1918






26 November 2014



Dr Janina Struk [freelance photographer, lecturer, writer and author of Photographing the Holocaust: Interpretations of the Evidence (IB Tauris, 2004) www.janinastruk.com]

Photographing the Lodz ghetto: Interpreting the evidence.






3 December 2014



Łukasz Krzyżanowski (PhD candidate, University of Warsaw)

Recovering private Jewish property in Polish courts, 1945-1948






10 December 2014



Dr Piotr Goldstein (Independent Researcher)

Polish Civil Society after 1989: New phenomenon or new developments?






4 February 2015



Izabella Goldstein (PhD candidate, University of Manchester)

The music of the Jewish underworld in pre-World War Two Warsaw: Preliminary findingse






25 March 2015



Dr Hubert Zawadzki (FRHistS; author of A Man of Honour: Adam Czartoryski as a Statesman of Russia and Poland, 1795-1831; co-author (with Jerzy Lukowski) of A Concise History of Poland)

'Invasion, Deportation and Survival: a Polish Woman's Epic Wartime Story 1939-45'






22 April 2015



Dr Wojciech Rappak (University College London)

'Lanzmann's Shoah and the Karski edit'

--

"Shoah", part 2: here...






6 May 2015



Jakub Motrenko (PhD candidate, University of Warsaw)

'Sound Science or Junk Science: Polish Sociology facing the Solidarity Movement (Solidarność)'



Prof. Michael Fleming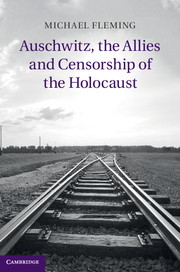 Biographical Note:



Michael Fleming is a professor of history at the Polish University Abroad, London. He is also the conference secretary to the Institute for Polish Jewish Studies. He has previously taught at Jesus College and Pembroke College, Oxford University, and has been a visiting researcher at the Pułtusk School of Humanities and at the Institute of History, Polish Academy of Sciences in Warsaw. In 2011, Fleming was a co-winner of the Aquila Polonica Prize. His current research examines Polish intelligence on the Holocaust. His most recent book is

Communism, Nationalism and Ethnicity in Poland, 1944-1550

(2010, Routledge).



CONTACT:

E-MAIL




Polish Embassy in London hosted a launch for Professor Michael Fleming's book "Auschwitz, the Allies and Censorship of the Holocaust". Visit Embassy website for details: Here...

In 2015 Professor Michael Fleming has been awarded with the Kulczycki Book Prize in Polish Studies for the best book in any discipline, on any aspect of Polish affairs, published in the previous calendar year.




You can also buy prof. Fleming's book here: Auschwitz, the Allies and Censorship of the Holocaust


_________________________________



Copyright by The Polish University Abroad | Registered as a charity in England No. 298510



_________________________________